July 13, 2022 - With today's announcement that the Bank of Canada has raised the prime rate by 1%, we can now expect all variable rate mortgage products & credit lines to also increase rates by the same margin. The Banks will also adjust the fixed rate mortgages but the amounts may vary between lenders.

While we cannot predict any future rate changes that may occur, we do know that rates are always moving up and down and that markets are always fluctuating.

Historically, we have seen that being in a variable rate product has proven to be a much better savings than fixed rate mortgages, and this is why Ernie Zambri, our In House Mortgage Broker recommends that product.

We believe that everyone should be taking a long term approach on how to pay the least amount of interest over time because most Canadians will retire their mortgage somewhere between 20-30 years.

A 1% increase means a payment increase of
$277/month on a $500k mortgage,
$412/month on a $750K mortgage,
$555/month on a million dollar mortgage.


Historically, interest rates have moved up and down over the last few decades.
Here is a very informative article tracking each period of substantial rate increases, and how they quickly returned back down.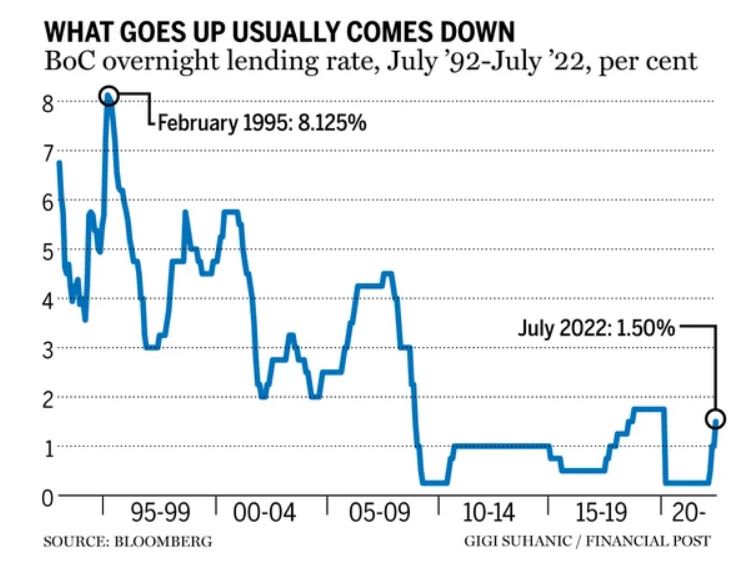 The article should help give you a better idea of how these rate adjustments will likely play out and offer some reassurance to 'stay the course' to those currently in a variable rate mortgage.
Feel free to reach out to Ernie Zambri at (416) 571-2842 or ernie@ezmg.ca or with any questions you may have.