Richmond Hill
The friendly, down-to-earth community of Richmond Hill is ideal for families and individuals alike, as it's safe, readily accessible, and offers affordable real estate in a pleasant location.
---
Richmond Hill began as a small settlement in the 1870s, expanding with the development of Yonge Street which, at the time, was primarily a military road. Today, Richmond Hill is one of the fastest-growing communities in the country.
Only 10km north of Toronto, this expanding municipality is ideal for those who need to be close to the city but are looking for a safer community and less-expensive real estate. In addition, Richmond Hill is extremely multi-cultural, boasting accommodations for all faiths. 
In reputation, Richmond Hill is known as a friendly, down-to-earh-town with its unofficial motto being - "A little north, a little nicer." Ideal for families or individuals, Richmond Hill real estate is a good investment. With the population of 210 000 in 2023 and constantly growing, increasing demand could drive up the price of real estate so now is the right time to buy property in this town.
Real estate in Richmond Hill is also a good investment because the town itself is extremely accessible. With buses running up and down Yonge between Finch all the way to Aurora every five minutes, getting to a neighbouring town is not a problem even if you don't have a vehicle. Richmond Hill also has an expansive YRT transit system and a Go Train Station located on Major MacKenzie.
Whether you want to go to the city for a night out or to Vaughan Mills Mall for some shopping, you don't have to worry about how to get there in Richmond Hill.
For those interested in purchasing a home in Richmond Hill, you can expect the average price is $1,118,374 (YTD 2023) That being said, different areas of Richmond Hill will average slightly different prices. To learn more about the different communities in Richmond Hill browse the links below.

» Find Properties in Richmond Hill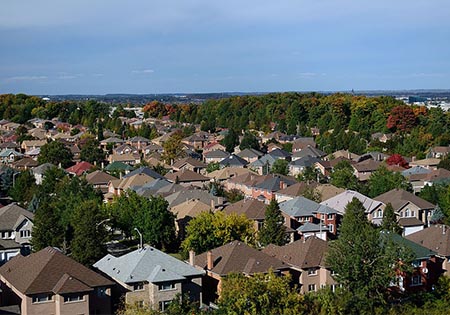 ---
History
Richmond hill is a town located in Southern Ontario, Canada in the central portion of York Region, Ontario. It is part of the Greater Toronto Area, being located about halfway between Toronto and Lake Simcoe.
It is about 10 kilometres north of the Toronto city limit, Steeles Avenue and about 30 kilometres north of the downtown core of Toronto. Once considered the "Rose Capital of the World", Richmond Hill has seen a huge population increase, being Canada's fastest-growing community in the 1990s.
On January 1, 1971, they expanded Richmond Hill's borders, annexing parts of Whitchurch Township, Markham Township, Vaughan Township and King Township into Richmond Hill, expanding the area covered from 1,700 acres to 27,000 acres and the population from a little over 19,000 to some 34,000.
The town grew to encompass the communities of Gormley, Dollar, Langstaff, Carrville, Headford, Elgin Mills, Jefferson, Bond Lake, Temperanceville, Lake Wilcox, Oak Ridges and Richvale. While Richmond Hill was a prosperous, well developed town, many of the outlying areas annexed were far more rural, with dirt roads, no water mains or sewers and no streetlights, and the time needed to bring municipal services up in these areas, combined with residual unequal tax assessments caused considerable conflict in the municipal politics for some time.
Policing was taken over by the York Regional Police, but fire protection remained with Richmond Hill, whose firefighting force quickly grew. Having hired its first full time employee in 1967, it had fourteen full time employees by 1971. Yonge Street through Richmond Hill expanded from two lanes to four in 1971, relieving congestion on what had become known as "Ontario's worst stretch of highway".
Development had led to increasing property taxes and the H.J. Mills greenhouses relocated to Bayview Avenue and Elgin Mill Road. The site of the greenhouses was developed as a subdivision. The fast growing town set aside significant areas for parks, with five new parks dedicated in 1973, and two more in 1974. The Richmond Hill Historical Society was founded in 1973. The society was dedicated to preserving the history of Richmond Hill and raising awareness of the town's history. Their first action was to restore 150 year old house, known as the Burr House.
As the 1970s went on, the population growth of Richmond Hill remained large. In 1976, home prices in Richmond Hill were among the highest in Canada. By this time, the town council was split over whether to keep expanding rapidly. The deadlock over a fifty-five house subdivision named Springmills Estate lead to one councilor saying that it was not the reform council it was dubbed, but a "deformed council". Other housing projects faced similar problems as councilors debated many things, including the need for affordable housing and the encroachment of homes into the farmland and the Oak Ridges Moraine.
GO train service was extended to Richmond Hill in 1978, officially opened on April 29, 1978 by Bill Davis. Growth in Richmond Hill slowed towards the end of the 1970s, with M.L. McConaghy Public School closing in 1979 due to dropping enrollment. At the same time, Richmond Hill began to make official plans for future land development. The first official plan concerned a 700-acre industrial park at Leslie Street and Highway 7 named Beaver Creek. A commercial area within the park spread into the hamlet of Dollar. The plan was rejected, however, by the Ontario Municipal Board, and Richmond Hill was the first municipality in Ontario to have its official plan rejected outright by the board.
The whole affair was subject to much controversy in the community, although the town council eventually declined to appeal the decision. When the new council convened in 1980, led by new mayor Al Duffy, the town remained without a development plan. The council hired civic planner Peter Walker to produce a new official plan.
By September 1981, the new plan was draft, with limited development of northern Richmond Hill, industrial development centred in the south-east part of town and commercial centres remaining along Yonge Street. The plan was approved in July 1982 by the Ontario Municipal Board. A clash over the use of the land in Langstaff, known as the Langstaff Jail Farm erupted in 1982 between Richmond Hill and Toronto, which owned the land. The 632-acre plot of land had been acquired by Toronto in 1911, and was unused in 1982. Toronto's plans for development clashed with those of Richmond Hill over the balance of industry and residential development, with Richmond Hill favouring more industrial development. The rose business left Richmond Hill in June 1982, with the closure of H.J. Mills florists.
Mills had died in 1980 leaving the company to his son, but the poor economic conditions, combined with increasing property taxes in the growing city made the business unprofitable. A 1984 contest organized by The Liberal had readers submit entries for a new town slogan. The town council choose three of the submissions which residents then voted on, and "A little north, a little nicer" became Richmond Hill's new town slogan.
Richmond Hill's growth continued explosively in the 1990s, fueled in significant part by immigration. In the early 90s, Statistics Canada named Richmond Hill as the fastest growing community in Canada. The demographic base began to change too, with the Richmond Hill Association for Multiculturalism founded in 1989 by Jay Chauhan. today, Richmond Hill is a multicultural town, with a Hebrew school, a Hindu temple, Chinese language churches, Italian Community Club, Italian language church services and other facilities serving the needs of the communities.
Arts & Culture
Whether you're taking a stroll (or skate) at the beautiful Mill Pond or participating in some retail therapy at the Hillcrest Mall, there is something for everyone in Richmond Hill. Entertainment in this town ranges from family-oriented to intellectual. For those interested in the arts, there's no need to go all the way to Toronto to celebrity-spot or visit art galleries when you live in Richmond Hill.
The town offers a diverse cultural experience for any interested art-goer. The newest addition to Richmond Hill's cultural attractions is the Richmond Hill Centre for the Performing Arts which regularly hosts celebrities such as Jane Krakowski from 30 Rock and Grammy Award winner Sheena Easton. For those with a taste for the historical, the Richmond Hill Heritage Centre will suit your needs and has educational value for the kids.
Education
Bayview Hill
Crosby
Devonsleigh
Doncrest
Harding
Jefferson
Langstaff
Mill Pond
North Richvale
Oak Ridges
Oak Ridges Lake Wilcox
Observatory
Rouge Woods
Rural Richmond Hill
South Richvale
Westbrook