Christina Varga - Toronto Storeys

Apr 24, 2020
Find a safe place for the sellers to be so the home is empty. Get a photographer, inspector, and stager in without breaking physical distancing measures. Repurpose a 'sold sign' from a previous property because the sign company has shut down. Set up a showing that includes disclaimers about COVID-19 symptoms. Offer sanitizer and masks. Wipe down anything a buyer touches. Send agreements electronically. Make Zoom calls to go over details. Close virtually.
"At the onset of this pandemic, TRREB urgently and strongly advised our 56,000 realtor members to refrain from face-to-face real estate practices as much as practicable during the (Ontario) state of emergency," says Michael Collins, TRREB President.

Among the new tools TRREB has introduced to help people view properties is one that allows TRREB members to live-stream open houses on their listings so that interested buyers can join the salesperson for virtual open houses in real time as they walk through the property, present its features, and answer questions, Collins says.

But it's the Real Estate Council of Ontario (RECO) that's the organization behind the enforcement of the current rules that real estate salespeople, brokers, and brokerages must follow in the province. These include a bevy of new limitations both buyers and sellers must work around.

"Buyers entering the market can expect such physical distancing measures as: COVID-19 and vulnerability screenings, limited physical access to properties, new protocols and heightened safety and sanitation measures. Buyers can also anticipate an increased reliance on technology and digital media throughout the home-buying process. This may include anything from video-conferencing with their salesperson, showcasing of homes through virtual home tours and video walk-throughs to electronic document transfers for such things as: contracts and property information, and use of electronic signature tools for finalizing agreements, whenever possible," the organization says.
"Traditionally, the housing market has been driven by population growth, which is strongly linked to economic growth and job opportunities. On top of this, the cost of borrowing, in terms of mortgage rates, is a key determinant as well," TRREB's Collins says.

However, he adds, "the current situation has not been driven by traditional economic drivers. Instead, health concerns have necessitated strict social distancing measures. So, while economic drivers will be a key consideration as we move into recovery, the timing of recovery will be dictated by the trajectory of COVID-19 cases." A recent best-case forecast from the Public Health Agency of Canada suggests that cases will peak in the spring and start to go lower through the summer and tail off in the fall.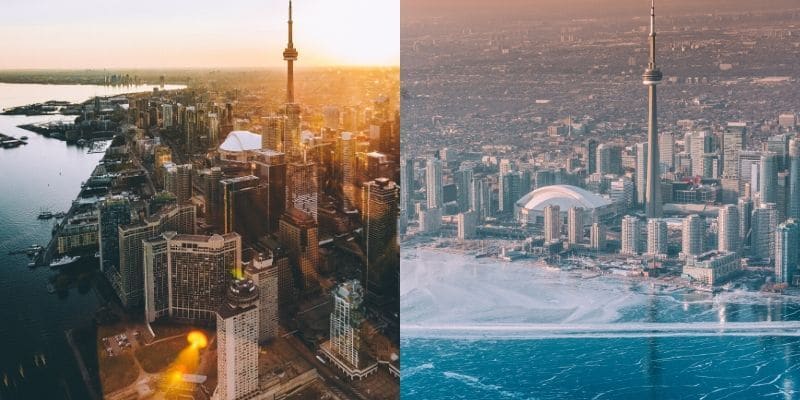 From 'On Fire' to Frozen
Shawn Zigelstein, broker at Royal LePage and team leader of Team Zold, says "the first two weeks of March were absolutely on fire," with multiple offers and average price going through the roof. "And then the shutdown hit."

Royal LePage released a forecast on April 14, suggesting a best-case scenario that home prices could grow 1% year-over-year by the end of 2020 if stay-home restrictions are eased later this spring. However, if business activity continues to be restricted until fall, the company expects prices to drop about 3%. This compares to a pre-pandemic forecast of a national price increase of 3.2% by the end of 2020.

"Due to COVID-19, expected price growth has been revised down almost 70 per cent," compared to the company's earlier scenario.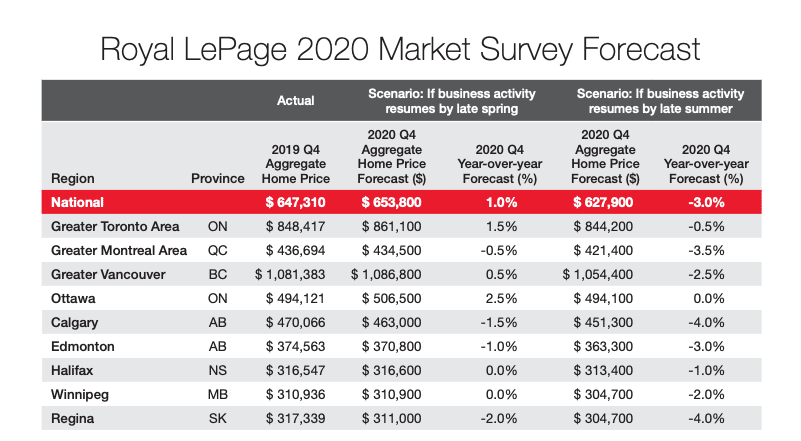 But it depends on what type of home people are looking at, Zigelstein says. For people with stable jobs, who are renting now, they now may have the ability to jump into the market. Lower income earners, who can usually only afford lower-priced homes, such as condos, are typically the ones who have lost jobs, he says.

As such, the mid-range market will likely be strong, with low interest rates. So, for instance, move-up buyers may free up town houses and semi-detached homes.

The upper end may take a bit of hit, Zigelstein adds. Those buyers may have significant stock-market investments that may drop, or could be business owners who have had shutdowns.
Original article here.