York Region Weekend Events! 
Check out Aurora's Ribfest we have a coupon below!
The tastiest event of the year will be taking place at Machell Park, as the rib teams get fired up starting on Friday, August 25.

Not only will there be the tastiest ribs but also roasted yams, roasted corn on the cob, beavertails and many other dishes for every appetite.

We also will have great live entertainment, an inflatable midway and activities for kids of all ages.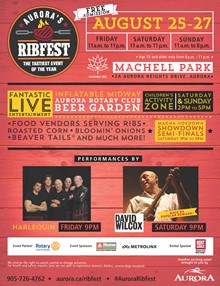 Well we have the details;
August 25 2017 
August 26 2017 
Are you going to one of these events? Comment below and let us know how they were
Tag TeamZold on Social Media!