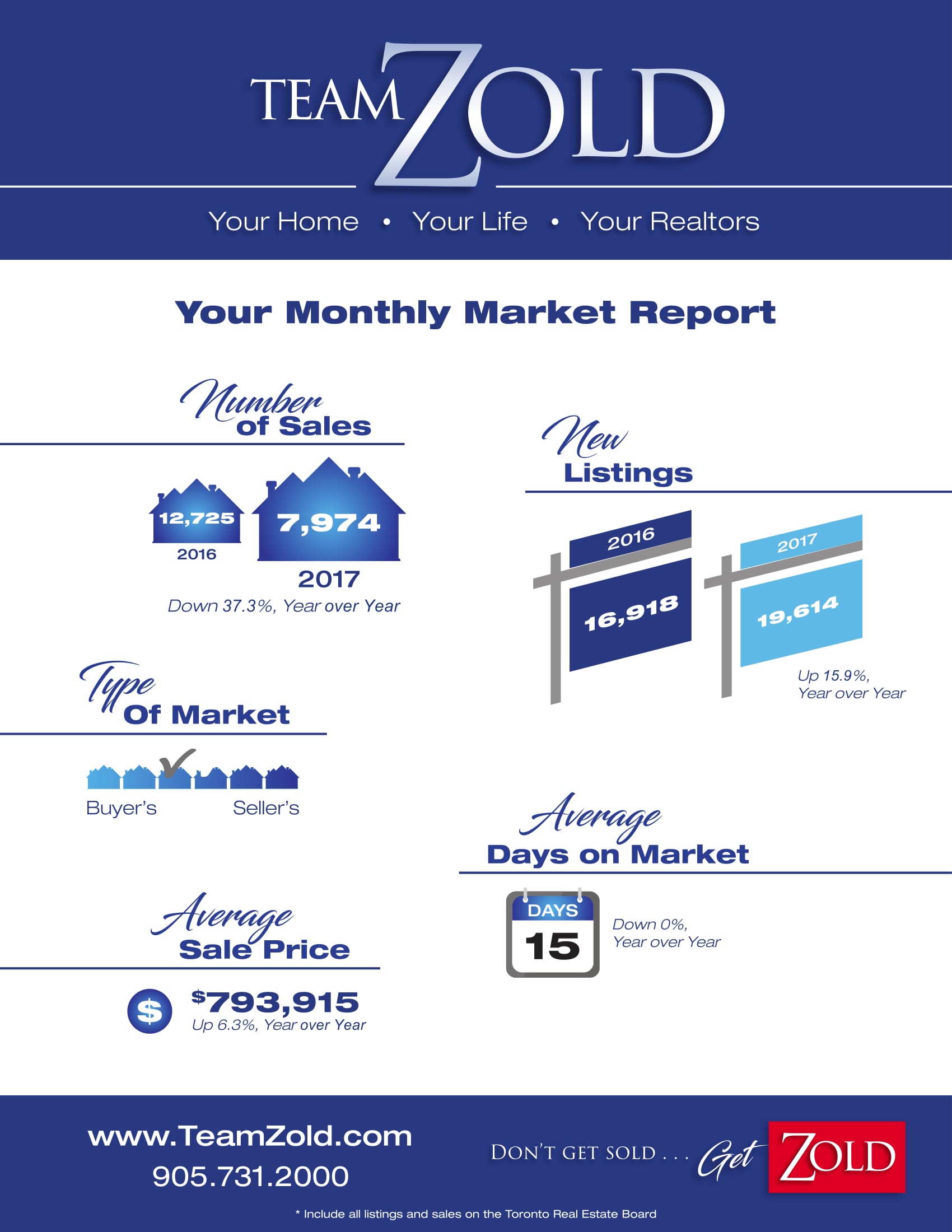 This is what the Toronto Real Estate Board released this morning...
July 6, 2017 -- Greater Toronto Area REALTORS® reported 7,974 sales through TREB's MLS® System in June 2017 – down by 37.3 per cent in comparison to June 2016.

The number of new residential listings entered into TREB's MLS® System, at 19,614, was up by 15.9 per cent compared to June 2016. While this annual rate of growth was sizeable, it represented a more moderate annual rate of growth compared to May 2017, when new listings were up by 48.9 per cent year-over-year.

"We are in a period of flux that often follows major government policy announcements pointed at the housing market. On one hand, consumer survey results tell us many households are very interested in purchasing a home in the near future, but some of these would-be buyers seem to be temporarily on the sidelines waiting to see the real impact of the Ontario Fair Housing Plan. On the other hand, we have existing home owners who are listing their home because they feel price growth may have peaked. The end result has been a better supplied market and a moderating annual pace of price growth," said Mr. Syrianos.

Annual growth rates for MLS® HPI benchmark prices have moderated over the past two months, but remain strong. The MLS® HPI composite benchmark price was up by 25.3 per cent on a year-over-year basis in June. June's average selling price for all home types combined for the TREB market area was $793,915, representing a 6.3 per cent increase compared to the same month in 2016. A better supplied market has certainly been a key factor influencing the moderation in price growth.

"Recent Ipsos survey results suggest that home buying activity in the GTA will remain strong moving forward. The year-over-year dip in home sales we have experienced over the last two months seem to be the result of would-be buyers putting their decision to purchase temporarily on hold while they monitor the impact of the Fair Housing Plan. On the supply side of the market, it certainly looks as though buyers will benefit from more choice in the second half of 2017 compared to the same period in 2016,"said Jason Mercer, TREB's Director of Market Analysis and Service Channels.